The perfect present for this red loving girl, from my perfect friend Liz.
When I was little, Christmas was absolutely perfect. There were always tons of family members gathered in plaid and pearls dancing along to the Yule Log, there were so many presents I could barely see the floor underneath all of the crumpled wrapping paper and people laughed and hugged, ate and sang, eggnog in hand, nonstop from Christmas Eve until late Christmas night.
It was ~ Christmas card illustrated, movie depicted, exactly what it was supposed to be ~ perfect.
Of course, this was all through the eyes of a child. I am sure in reality, my mother was exhausted from the prep, shopping, cooking and cleaning, managing in-laws (or out-laws as my aunt used to call them). I bet she fretted over the cost of gifts and food to feed a small army, but as a child, I was blissfully unaware of all that. My only concerns were about school vacation and what Santa brought. Since, he always came down the chimney with everything on my list and school was out through New Year's Day, I was good.
Perfect was pretty easy to arrange at nine or ten.
Once my dad died things changed a bit. Well, a lot actually. At twelve, the magic of Santa wasn't as magical, my mom spent Christmas choking back tears as she counted one less at the table. The crowd dwindled and our holiday dinners were moved to my sisters' newlywed homes. We were not the party house anymore.
Christmas was different and definitely not perfect.
It stayed that way for a long time, through my teen years and into my early twenties, when I started dating my husband. Love has a way of making the holidays glow, doesn't it? We went to parties, sent out cards, shopped for family and exchanged sentimental gifts. The box of long stem, white roses he gave me on our first Christmas together was the most beautiful gift I had ever received.
Even my mother's tears were a bit more bearable with his strong hand in mine.
Perfect was back.
Once again, it lingered for a good long while. Kids were born, Santa returned, the family grew and now I was the hostess with a very crowded house...and while I adored every minute of the Christmas chaos, the pressure to make sure it was always perfect for my kids and truly, for myself, was always there.
No one had better get sick, the food needed to be top notch, every item on the wish list had to be purchased in between gingerbread house decorating, holiday light drives, school performances, the best seats at The Nutcracker, jaw dropping Advent gifts, visits with Santa, artfully posed greeting cards, crafts and cookies of every kind, classic tv watching and visits with family and friends.
Even the year I had a miscarriage, I was stenciling handmade wrapping paper with the kids in between every gut-wrenching contraction and ducking into the family room when the pain and tears became too much, before popping back out to add a few gumdrops to the gingerbread village.
You would think that that would've been the year I gave up perfect, but Sicilian genes are stubborn. And I was on a perfect binge.
That was several years ago, when I was 41 or 42, I've lost count. Things look different at 47. I think I've mellowed. Well, maybe not according to my husband, but definitely when it comes to Christmas.
Perhaps, my new, more laid back approach to the holidays comes from the simplifying binge I've been on these past few years. My life has actually improved with less stuff to manage. The idea that Christmas could be fabulous with less has become quite appealing. Maybe, it's the whole, "it came without boxes and bags" thing.
Or maybe I'm just finally growing up and seeing the holidays through the eyes of an adult.
I spent so many years trying to recreate the Christmases of my youth, when my family was intact, when my mom thought Christmas was the most wonderful time of the year and laughter filled the air instead of sad remembrance, that I have forgotten one basic fact...
...that nothing is ever really perfect.
That perfect, like beauty, is in the eye of the beholder and even during imperfect days, there are perfect moments.
People come in and out of your life, kids grow up and move away. The holidays are what you make of them and the stick a child uses to gauge Christmas, or the memories of Christmas, is isn't always a realistic or accurate tool to measure perfection.
This year, we haven't had a lot of time to watch all those holiday specials or see The Nutcracker, we baked cookies from a bag, there is no gingerbread house...although I am still hoping we get to that one. My husband and I have decided not to exchange gifts. Trust me, we have enough stuff, so this year, our gift to each other, is simply each other. The kids don't get it, but that's ok. Someday, they will.
For the first time in forever, family is scattered, my mom is in a hospice bed at home and our holiday table will be set for six instead of the usual thirty. I will not be serving chateaubriand, my husband is going to make fajitas, because they sound like fun. My sister and brother in law don't know it yet, but we're going to watch an old DVD of my kids' performance in a musical version of A Christmas Carol for a good laugh and bring out our tattered deck of UNO cards...and I'm pretty sure we'll all be wearing sweatpants.
Decidedly different from holidays past, but perfect just the same.
I guess I'm a big girl now.
Merry Christmas my friends.
I wish you all a perfect day.
However you spend it.
~~~~~~~~~~~~~~~~~~~~~~~~~~~~~~~~~~~~~~~~~~~~~~~~~~~~~~~~~~~~~~~~~~~~~~~~~~~
Before you go, I'd like to thanks Benita, from
Chasing Quaintness
for tagging me and asking me to
Blog It Forward
. For each blogger than does a good deed, posts about it and displays this button on their blog, Wayfair will donate $50 to Habitat for Humanity. Lovely.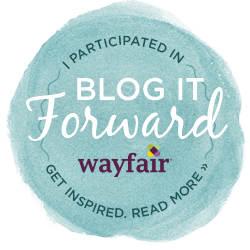 At first, I wasn't sure I was going to have time to squeeze this post in. Real life has been a bit challenging lately, but isn't that what Christmas is all about...being kind or charitable when it isn't easy or convenient? I think so. Besides, I did have a good deed to share. I rather like being charitable and try to do it whenever possible.
The other day I was in Old Navy, buying a few presents (shhh!) and the woman at the counter kept offering everyone she rang up two pairs of men's jeans. They were marked down to .47 each. There were no takers. After about three customers declined, I remembered that our high school was always collecting for families in need. I thought it might be nice for a teen boy to get some new jeans for Christmas, so I bought them. Was it a big expenditure? No, but it's not always about the monetary value of the kind act. It's about the gesture itself....47 cents or not, new pants are new pants.
And I get to be Secret Santa! ;)
Now at this point, I am supposed to tag two bloggers to go and do something kind...Blog It Forward and then post about it. Well, the campaign only lasts until December 31 and boy oh boy, this is a busy week, so rather than tagging anyone specific, I ask you all to think about the challenge and if you are so inclined you can grab a button
here
and participate. Just remember to share it with Wayfair in some way, so they know to look for their button.
Ho Ho Ho.
Did you enjoy today's post?
Well why not share it on Facebook or Pinterest...Or s
ign up for email and follow the fun.
Tips, tricks, crafts and giggles delivered straight to you!